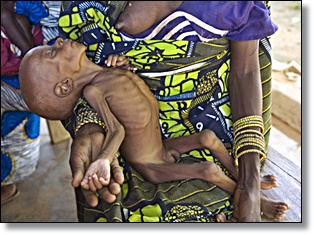 Ravages of famine                         Photo courtesy
The sun blazes through the azure sky burning everything on its path. The earth below has been baked into hard, crusty rocks from months of relentless fierce heat. Rains have disappeared leaving a brownish, smoky sky.
Across the nation, images of weak, emaciated men, women and children have sank the hearts of many television viewers. Old men and women struggling to sit up stare pitiably into camera lenses; too weak to tell their tales. Many helplessly peer into the horizon, hoping against hope to catch a glimpse of help in form of relief food. Some are uncertain that they will live to see another day. From the strife torn northern Kenya to the dry, parched remote villages of Ukambani, carcasses of domestic animals have become part of the landscape.
Yet it took weeks of persistent media coverage of the ravages of famine and hunger, for President, Mwai Kibaki to declare drought a national disaster and for the umpteenth time plead for international support to save lives.  Millions of Kenyans were on the verge of death due to hunger and starvation.
Once more, the agricultural sector had failed to secure the stomachs and the lives of millions of Kenyans. Donors and international development partners were slowly becoming inured to the circus of food insecurity in Kenya.
President Mwai Kibaki, in the preface of the 2010/2020 Agricultural Sector Development Strategy; prays for a food secure nation: "We are convinced that if successfully implemented, this strategy will return the sector to growth path to achieve our vision of a 'food-secure and prosperous nation."
Agriculture, the mainstay of the Kenyan economy, contributes directly to 26 percent of the Gross Domestic Product (GDP) and another 25 per cent indirectly. The sector accounts for 65 percent of Kenya's total exports and provides more than 70 percent of informal employment in rural Kenya. In fact, the government relies of agriculture among other key sectors to deliver its dream of achieving its Vision 2030; of turning Kenya into a globally competitive and prosperous nation. The vision of the Agricultural Sector Development Strategy (ASDS) is: A food-secure and prosperous nation.
The strategy aims at reducing food insecurity by 30 percent to surpass the Millennium Development Goals (MDGs) and to reduce the number of people living below absolute poverty lines to less than 25 percent. However, reality on the ground, replayed across the nation by television and newspaper images, indicates that Kenya is far from achieving its dream of becoming a food secure nation.
The tragic irony is that coupled with lengthy seasons of failed rainfall, is the shortcomings of incompetence, negligence and failure to plan on the part of the government. When the rains eventually fall, farmers in the country's most productive regions are caught without seeds and fertilisers. Once again, a country that heavily depends on rain fed farming will be driven deeper into poverty.
Samuel Nyongi Chumo is a very angry farmer. He blames the unfolding tragedy on "Lack of required support from the government and unreliable rainfall is the major cause of seed shortage in the country." Chumo has been a contracted maize seed farmer for the past 10 years. He cannot remember a day when an agricultural extension officer paid him a visit to advise him on seed and farming techniques: "farmers are on their own, the agriculture people have no idea what farmers want, at what time and in what quantity."
Chumo argues that it is no longer profitable to be a contracted maize seed farmer for the state corporation Kenya Seed Company. Kenya Seed Company is mandated to avail certified seeds to farmers, and controls almost 80% of the country's market share. He says lack of farm inputs at the required time, had forced more farmers out of business yet the government was not even aware.
Another farmer, 64 year old John Wafula of Mautuma in Lugari district, says he gave up planting after failing to get farm implements on time: "The ministry of agriculture is dysfunctional. It has no working plan and most of the extension officers themselves go hungry", he says.
Wafula abandoned farming on his two acre piece of land when he failed to secure fertilizers and seeds, after spending considerable money on land preparation.
Chumo who grows 100 acres of maize seed, mostly on leased land, accuses the government of neglecting farmers. He posits that it was a tragedy to keep farmers waiting in vain for fertilizers and seeds. Farmers in Trans Nzoia District, he argues, tilled their land in February yet by April, the government had not supplied the seeds and fertilizers. 
Chumo postulates that to make Kenya a food secure nation, the government should advice farmers against subdivision of land which used to produce maize seed into small plots for settlement. Such subdivision hampers the country's ability to produce enough food. 
Most of the farmers lack access to loan facilities, and those who can access such loans are frustrated by the tedious application processes. One farmer who declined to be named, claimed that, Kenya Seed Company, is slow in processing payments to contracted farmers, hence making them unable to pay for the services rendered on the farm. The seed company is accused of being opaque to farmers' needs with its staff habitually giving wrong information. Farmers have to wait for up to six months to get paid after delivering the products.
Evelyn Nakhungu 48 decided to till her farm without any government assistance. The mother of nine depends on seeds she has learnt to preserve for years to keep her two acre piece of land in Webuye, producing crop: "After every harvest, I choose the best cobs, which I preserve as seed. It is very simple. I have no time for this hybrid things," she says.
Nakhungu says she cannot change her favourite variety, locally called No.8. Her greatest challenge is getting fertilizer. Her frustration and despair drive her into harvesting poor crop. Like Chumo, Nakhungu says she has never seen an extension officer on her farm neither has she received any assistance from the government.
In April this year the Kenya Seed Company promised to put in place measures to ensure that seed shortage   does not occur again. The company said mitigation measures included expanding production through irrigation, building of strategic seed reserves and offering incentives to framers. It said it had increased area under seed production to 40,000 acres up from 20,000 acres. It assured framers that they would have sufficient maize seed for medium, dry land and coastal zones. In some regions where seeds were available, they were the wrong variety.  In Central Province for instance, farmers were ready to plant yet the available seeds were not appropriate for the region.
Maize is the overwhelming national staple crop in Kenya. It is a predominant crop and when it fails, disaster looms. According to the ministry of agriculture, area put under maize is about 1.8million hectares annually. The long rains season is the most important with respect to maize production, accounting for 85% of the annual maize output.
The forecast on maize production for 2011 by the ministry puts a shortfall in output. An estimated 2.8mllion metric tonnes of maize is expected to be harvested during the year 2010/2011 production season. Making the cumulative output below the short term average of about 3.0 million metric tonnes, against annual consumption estimated to be 3.4 million metric tonnes. The ministry's planning is pegged on hope that the shortfall will be covered by carry-over stock and cross border imports through June.
The government while addressing underlying factors causing food insecurity in the country puts emphasis on faring activity in pastoral and marginal agricultural areas. Prevalence of HIV/AIDS is also mentioned as an underlying factor among farmers while Lakeshore districts are battered by perennial floods, which limits investments in productive activities.
On extension services, the ministry has the directorate of National Agricultural Sector Extension Policy (NASEP), whose role is to achieve efficiency and effectiveness in service delivery. The extension services policy is supposed to adopt performance management practices, which are result oriented, participatory and innovative. The services include collecting, packaging and disseminating agricultural information and technology to farmers. Farmers are required to participate in decision making and provide feedback. It is this participation that Chumo and Nakhungu say is completely lacking. The farmer's views and concerns are never sought.
In early May, the Parliamentary Committee on Agriculture, Livestock and Cooperatives pointed an accusing finger at former managers of the Kenya Seed Company for causing the shortage. The committee Chairman, John Mututho, said that former management had reduced the production of basic seed maize by 50% resulting in the shortage. Mututho maintained that over 20,000 metric tonnes of seed maize was sold as commercial maize between 2008/2009. Another 27million metric tonnes of strategic seed reserve was sold to Rwanda and Southern Sudan, allegedly without express consultations with ministry officials.
As politicians indulge in their favourite blame games, farmers continue to suffer while millions of hungry, weakened and emaciated Kenyans stare into the sky. With pangs of hunger gnawing at their empty stomach, their lives are only sustained by hope. Hope that relief food will arrive on time. Hope that the skies will open up and pour precious rain onto the thirsty earth below.
By Luke Kapchanga
Kenyan based Freelance Journalist.