What is Wrong with Mutharika?
Published on 14th October 2011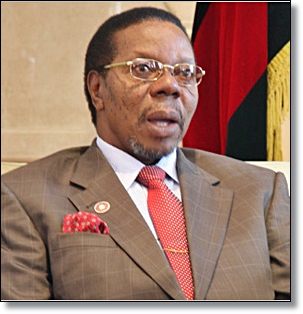 Bingu wa Mutharika                    Photo courtesy
When Malawi's president, Bingu wa Mutharika won elections after a lot of scuffles with his boss former president Bakili Muluzi, many thought: at least fresh air had come to Malawian politics. Those who thought fresh air was coming into Malawi's political landscape goofed badly. For, before long, Mutharika was at loggerheads with his vice president Dr. Cassim Chilumpha who was his running mate thus automatically Vice President.
After the Mutharika government was sworn in, it did not take long before Mutharika found a hunch to start machinations to get rid of his VP. The situation worsened so much so that Mutharika alleged that Chilumpha attempted to kill and overthrow him. These allegations against Chilumpha sparked off a legal battle that saw Mutharika sacked Chilumpha. However, Mutharika's tricks did not hold water. Chilumpha went to court in 2006 to seek interpretation of the constitution of Malawi. The court ruled against his firing. The government however refused to re-instate Chilumpha but arrested and charged him for treason.
Chilumpha's fate was sealed on 28 April 2006 when he was arrested at his home and sent to Lilongwe where he was put in the custody. It was alleged that Chilumpha conspired with another person to have Mutharika assassinated.
Now that Vice President Joyce Banda is doing the same after her boss wanted to flush her out the way he did with her predecessor, what is going in the Malawi power struggles? To begin with, Mutharika sacked his Vice President Banda from the ruling Democratic Progressive Party (DPP) after finding that Banda was a threat to his brother, Peter who Mutharika would have liked to see succeeding him.
Will Mutharika succeed where former president Bakili Muluzi failed? Does Mutharika intend to appoint his wife VP or his brother? This is the question many Malawians are asking after Mutharika appointed his wife minister of Safe Motherhood in a hurriedly cobbled up ministry - a very unique ministry all over the world. Mutharika went ahed and appointed his brother Peter minister for foreign affairs.
After finding no hunch to fire his VP, Mutharika is now asking the high court to rule on how the VP can work against her own government and constantly fail to attend cabinet meetings and still be considered a legitimate and continuing vice president. 
Malawians are keen to what the High Court will rule as far as this impasse is concerned. The hope of the majority is that the High Court will never allow itself to do Mutharika and his Dynasty's dirt laundry.
A holder of a PhD in economics, Mutharika ought to know and appreciate rule of law that does not accommodate cronyism, nepotism and nihilism. It does not require one to be an astrophyist or a guru in science to know that Africa is abaft in development just because of being manned by people like Mutharika. One does not need to know Fibonacci sequences, number and rabbits or first second and third newton's laws of motion to fault Mutharika and the like.
By Nkwazi Mhango
A Canada based Tanzanian and author of Saa Ya Ukombozi.