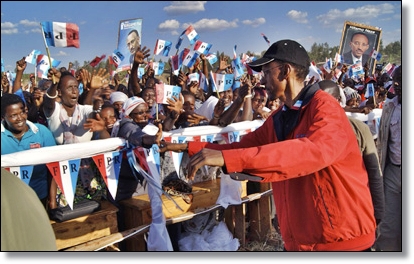 Kagame acknowledges cheers from supporters        Photo courtesy
The Rwandan communities across Australia will put up a massive peaceful protest against Rwandan President Paul Kagame's visit to Australia on October 28 in Perth. Kagame will be in Perth on a three day working visit to attend the Commonwealth Heads of Government Meeting (CHOGM 2011) from October 28 to 30 at the Perth Convention and Exhibition Centre.  
About 500 people from across various states of Australia will participate in this protest against Kagame's participation in Chogm. The protest is coordinated by Rwandan communities in Perth, Queensland and Sydney and will be supported by the Rwandan National Congress, the country's strongest opposition political organisation.
"We are well prepared to put up a huge peaceful demonstration against President Paul Kagame's visit to Australia. He has committed grave atrocities in Rwanda and perpetrated heinous crimes in the Democratic Republic of Congo," says the Protest Taskforce Co-ordinator, Robert Mukombozi.
"It is against the values of Australia that a leader who denies his people the fundamental freedoms should be allowed to participate in the Commonwealth Heads of Government Meeting (CHOGM)," Mukombozi says.
Mr Kagame allegedly heads a grossly corrupt government-himself spending a whopping $20,000 on a hotel room per night while the average Rwandan lives under $1 a day and the country is  dependent on +50% aid.
The Rwanda Patriotic Front government maintains its hold onto power through acts of repression, including arbitrary arrests and detention, torture, enforced disappearances and extra-judicial killings of critics and opponents of the regimes.
In Rwanda, leaders of political parties are languishing in prisons scattered around the country on fabricated charges of treason, inciting ethnic violence, sectarianism and genocide revisionism among other forms of vague accusations. They are currently imprisoned under cruel and inhumane conditions in Kigali. Ms Victoire Ingabire Umuhoza, Mr Bernard Ntaganda, Mr. Deo Mushayidi, Mr.Charles Ntakirutinka, Ms.Seraphine Mukamana, Mr.Andrew Muganwa are among the critical voices that are perishing in prisons. Other politicians like Andre Kagwa Rwisereka have been murdered while members of popular political organisations like the Rwandan National Congress are now exiled.
Military officers that have tried to promote democracy, rule of law and political pluralism have also been exiled, particularly, former Chief of Staff Lt.Gen. Kayumba Nyamwasa (who survived an assassination attempt on 19th June 2010 in Johannesburg, South Africa) and former external intelligence chief Colonel Patrick Karegeya. They are allegedly being hunted by hit squads for opposing military rule.  
Opposition parties such as United Democratic Forces-FDU Inkingi, Democratic Green Party of Rwanda and The Social Party-Imberakuri have been blocked from participating in the political affairs of Rwanda.
Apart from harassing the opposition, the government of Rwanda has enormously tampered the freedom of speech in the country, shattering independent media meant to check the government.  
In July 2010, Mr. Jean-Léonard Rugambage, a journalist and critic of the government, was murdered. Newspapers that are critical of government have been forced to close down (UMUSESO, The Weekly Post, Umuco, Le Journal Afrique and UMUVUGIZI Newspapers among others) and their owners forced to flee the country.
Many Rwandan journalists are now operating online from exile because of threats to their lives. Mr Ally Yusuf Mugenzi, Jean Bosco Gasasira, Bonaventure Bizumuremyi, Thomas Kamirindi, Steven Baguma, Lucie Umukundwa, Charles Kabonero, Eleneus Akanga, Mugisha Furaha, Didas Gasana and Amiel Nkuliza are among those exiled.
Journalists are jailed on charges related to their freedom of expression. Two Editors of Umurabyo Newspaper (Ms.Agnes Uwimana Nkusi and Ms.Saidat Mukakibibi) are in Prison.  Other media houses exercise self-censorship in order to survive. Civil society organisations are forced to take the official Government line in order to operate.
Such gross abuse of human rights has been documented throughout the years by all major international human rights organizations, including Human Rights Watch, Amnesty International, Reporters Without Borders, the Commonwealth Human Rights Initiative, and most recently the United Nations Human Rights Commission.
"We believe that Mr Kagame should be arrested and taken to the Netherlands based International Criminal Court at The Hague for trial on the documented killings he has allegedly committed and continued to perpetrate against innocent civilians in Rwanda and the DRCongo," Mukombozi says.
The Rwandan genocide in 1994 left so many in the international community, including Australia, with a sense of guilt that they wish they had known and done better to prevent or stop the carnage that engulfed Rwanda, leaving more than a million of its citizens dead. Rwandan President's former senior official, Dr Theogene Rudasingwa recently linked Mr Kagame to the shooting down of Habyarimana's plane.
It is the expectation of the majority of Rwandans that Australia will support all Rwandans to build a free, united, democratic, stable and prosperous Rwanda that will begin to reconcile and heal at last, the Protest Taskforce observes.
For more information/interviews please contact
Robert Mukombozi on mukrobert2000@yahoo.com or +61401795776 (Brisbane),
Theophile Habarimana on  habatheo2001@yahoo.fr or +61423236599 (Perth).