HP Declares War on Counterfeits
Published on 12th December 2011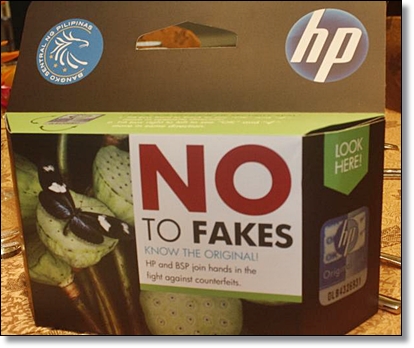 Anti-counterfeit partnership                        Photo courtesy
Hewlett Packard (HP), the world's leading technology company, is vowing to protect its customer's against counterfeits through the newly launched HP mobile phone authentification device.
The anti-counterfeit campaigns are a global affair and HP is applying new thinking and innovation in fighting the problem. As part of the global anti counterfeit initiative, HP Mobile Authentication will enable customers to easily verify the authenticity of their HP ink cartridge and HP toner cartridge at the point of sale.
According to Tina Rose, HP Europe Middle east and Africa Marketing Programme Manager, HP Mobile Authentication is one of the many measures that have been implemented as part of the wide anti-counterfeit initiative to protect HPs brand as well as deter sale of substandard goods.
HP, currently operating in more than 170 countries around the world, has made fighting counterfeits a key concern. Unknown to many, Africa has become a hotspot for fraudulent marketing of counterfeits. Unscrupulous criminal syndicates motivated exclusively by greed for money are even more blatant in their activities.  These dealers are providing funds to black marketers who then package counterfeit products in unauthorized and fake reproductions of HP packages before they are distributed to unsuspecting customers.
HP has been carrying out awareness campaigns targeting individual buyers as well as corporate companies and government agencies. The intention has been to promote awareness on the issues that can be faced by users of counterfeit printing supplies, as well as educate users and sellers on how to identify and report counterfeit HP supplies.
These campaigns are aimed at highlighting the importance of purchasing genuine HP products from authorized partners.
To complement these efforts, HP has been partnering with concerned agencies, especially the law enforcement officers in interception of counterfeit items at the points of entry. In May 2011, 14000 units of counterfeits were seized in a joint operation by HP team and the Kenyan law enforcing officers.
In line with HP's Anti-counterfeits policy, the company had introduced the Global Authentication Services (GAS), a cloud-based track-and-trace solution originally developed by HP Labs that can monitor goods in HP's supply chain. The HP cloud is linking pharmaceutical companies with customers in developing countries in a global effort to combat drug counterfeiting. This helps protect consumers against dangerous or ineffective drugs and enables pharmaceutical companies to protect their revenue and intellectual property from the growing black market.
By Evelyne Wangui,
Promax Community.