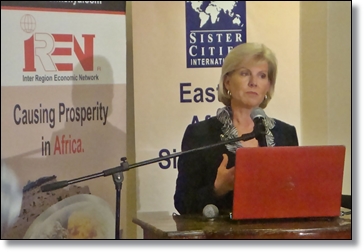 Mary Kane, President and CEO Sister Cities international
This is my first trip to Africa and only the second international trip I've taken since becoming President of Sister Cities International, and I'm delighted to be here in Kenya. In my short time here I've sensed the vibrancy of life here, both cultural and economic, and I am excited with the knowledge that we are here to celebrate an organization that will help spread this vibrancy throughout the world.
The core values of the sister cities movement—that international cooperation between citizens should increase understanding between peoples, be mutually beneficial, and facilitate peace—are universal. These values are what have sustained sister city relationships for over half a century and through generations of citizen diplomats. And we believe that they are the values that will propel the sister cities movement as it spreads throughout Africa.
Mary Kane (center) signs the certificate of partnership as Mr Shikwati (holding a mike); Eliazar Muga (Ministry of East African Community); Adam Kaplan (SCI) and Raymond Kiptum (EASC) look on.
The work of our nearly 600 hundred members through almost 2000 partnerships bear witness the fruits of international cooperation. Ask almost any person who has participated in a sister cities exchange and there is a good chance they will tell you, "It was a life changing experience." Sister cities programs have been giving people these life changing experiences for over 56 years, whether it is an exchange of youth going abroad for the first time, a delegation of city officials exploring the transportation system of another city, or a group of businessmen exploring trade opportunities.
Sometimes these intense personal experiences take on even greater meaning on the stage of world politics. Recently Xi Jinping, the current Vice President of China, traveled to the U.S. to visit Washington, DC as well as the state of Iowa, a state he first visited 27 years ago on a sister state exchange between Iowa and his province of Hebei (I should also note at this time that we are not limited to sister cities; sister states and sister counties are also prominent in our network). When he met those everyday citizens who had hosted him, he had this to say: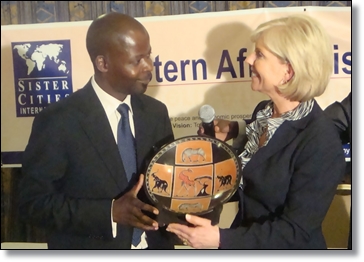 James Shikwati (Director IREN and Regional  President EASC) presents a gift.

You can't even imagine what a deep impression I had from my visit 27 years ago to Muscatine, because you were the first group of Americans that I came into contact with. My impression of the country came from you. For me, you are America.
I would also note that upon his return to Iowa Vice President Xi also participated in a trade luncheon with more than 130 business leaders, including 27 members of the Hebei Trade Delegation.  This was in addition to various other trade meetings, which underscored the economic ties that have developed in the 29 years since Iowa and Hebei became sister states. Needless to say, that week Iowa was the envy of the other 49 U.S. states.
Our hope is that over the coming years we will see a dramatic increase in the number of U.S.-Africa sister city relationships. Currently there are over 130 partnerships in Africa, which is far too few. We would also like to see more twinning between African countries to support regional cooperation and development. As the world has shrunk over the past years with easier communication and more options for traveling, international cooperation is no long an option—it's a requirement. And with the rise in African prominence, whether in technical areas such as mobile banking, cultural areas such as music and film, or economically, Americans are gradually waking up to the fact that Africa cannot be ignored.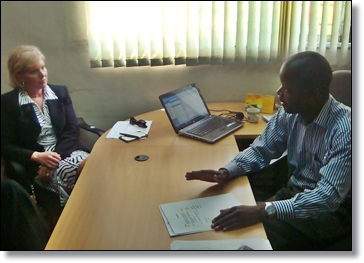 Mr Shikwati explains a point to Mary Kane in the IREN office
I mentioned before the dramatic personal impact sister city programs can have, and how these exchanges can pay dividends over the years, but there are many short-term, tangible benefits to sister city programs, and you need not look far to find them. Through our Africa Urban Poverty Alleviation Program, a grant from the Bill & Melinda Gates Foundation, the Boulder-Kisumu sister city partnership has constructed latrines and ablution blocks at both the most populous market in Kisumu as well as a school serving over 1000 students. In Mombasa the Utange Clinic and Medical Dispensary is being renovated and a maternity clinic is being built in partnership with their friends from Seattle, Washington. And through Mombasa's other U.S. partnership, with Long Beach, California, a water purification plant has been installed at a local clinic, with other medical equipment and supplies, as well as other water purification plants, pending delivery.
While these projects are aimed at alleviating the living conditions of urban communities, they are just one of many potential projects that come as a result of sister city exchanges.
U.S. communities have sent students, professors, technical professionals, business people, artists, and everyday citizens on delegation visits around the world to work on cooperative projects. Municipal experts in areas such as water and sanitation management, city planning, transportation, among others, have worked with their counterparts to exchange best practices and provide advice on existing projects. Business people and trade delegations have provided opportunities for foreign investment as well as access to markets in the United States. Students and professors have worked with their counterparts to both educate and learn. In every case they have built relationships that increase understanding of U.S. culture and common practices abroad. They have brought home knowledge about their foreign partners to educate and enlighten their fellow citizens.
I will be honest with you, for many Americans the idea of starting a sister city relationship can be daunting. Many people don't know who they should approach, how they can navigate municipal structures, or what other local partners they can engage. This is one of the reasons we are so excited to be partnering with James Shikwati, Director of Inter Region Economic Network and Eastern Africa Sister Cities. This organization will be our first point of contact when establishing new relationships in the region, and any members that start sister city partnerships in Eastern Africa on their own will be introduced to EASC as our trusted partner.
Establishing new sister cities is not easy. We often liken a sister city relationship to a marriage, and as with any marriage those first few encounters can be made much less awkward if you have some friends around the table to help you with conversation. In addition to working with us on establishing new relationships, in their role as a communication hub EASC will be in a position to help existing sister cities communicate with one another and spread best practices. In his capacity as President of the Inter Region Economic Network James has shown tremendous leadership, and we look forward to him bringing his expertise to the sister cities network.
By Mary Kane
President and CEO, Sister Cities International.