African Beauty: At What Cost?
Published on 19th June 2012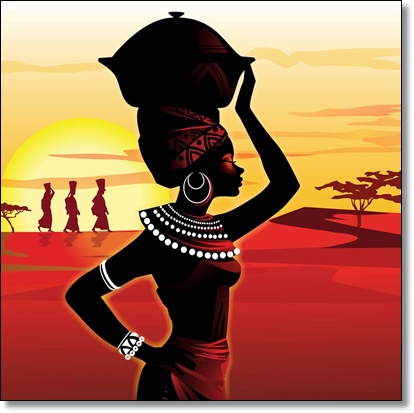 Photo Courtesy
The Cost of Africa's Inferiority Complex
According to one estimate, African girls of today spend more money on fashion than what they spend on books and food combined. From pedicure to manicure, skin bleaching cosmetics, hair relaxers, wigs, weaves, eyelashes, nails, among others. Many women in the universities even go to the extreme: they blow part of their school fees on items that will make them look sexy.
Take Nigeria for example, it is estimated that Nigeria has a population of about 155million with about 56% between the ages of 16-54 years old. Out of these age group women are more than 40million. The details are as follows: Male = 44,296,228 Female = 42,534,542
Source: CIA's World Fact Book.
Therefore with over 40 million women in Nigeria, if each one of them spends at least $ 1 a week on any of the above items, how much will that be? At least that is $ 40million dollars per week; making it about $ 150 per month. Mind you this figure just applies to Nigeria only. What about the women across all the 54 African countries combined?
Every day, Korean and Brazilian families thank black women for giving their countries $ 16.4 million dollars each. The low self-esteem of African women is making them very rich and they're happy about that.
Throughout Africa, women spend billions of dollars every week, to import Brazilian hair, Peruvian hair, Korean hair, Asian hair, European wigs, weaves, eyelashes, artificial nails and many other stuff, all because the African woman does not appreciate her God-given natural beauty anymore. She bleaches her skin and spends so much on her hair because she wants to look Asian, a European or American. She believes that is sexy! The result: cancer and other numerous untold consequences.
This is so because the African woman has been brainwashed to look down upon her identity and to boycott her natural beauty for someone else's. Our women have disposed their natural beauty and are rather paying so much for Asian and Western fashion. In fact, it costs African women hundreds of billions of dollars every year to keep their artificial make ups, their artificial hairs, the nails, and all the fashion they have blindly copied from other societies at the expense of their God-given beauty.
At the same time, the African fashion has been thrown to the dogs. Africa therefore spends all this money to create jobs for Asia, Europe and the Americas, whilst unemployment and poverty is becoming the destiny of the African people. Most African relationships are unstable because African women of today would demand all that their partners may not be able to afford. Africa needs  a mental revolution.
Bob Marley warned Africans to emancipate themselves from mental slavery, yet Africans wouldn't listen.
If African women are throwing their pride, natural beauty and their culture to the dogs, whom do we expect, to cherish and to promote the natural beauty of the African woman?
By  Honourable Saka.
Excerpted from the author's  African Beauty, Threatened By Western Civilization
Honourable SAKA honourablesaka@yahoo.co.uk  is a regular writer and a political analyst on African affairs, and a well-known social commentator in Africa. He is the editor of "The Doctor's Report."