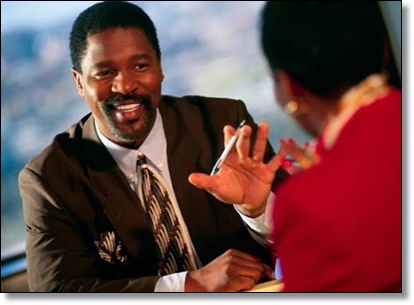 Interview                                      Photo courtesy
Current global economic downturns and recessions are not helping the employment market. However, great opportunities still exist for executives seeking to run great organizations. How should you prepare to seize the moment when such a singular opportunity knocks at your door?
To help you prepare for an interview for the top job, let's start with a piece of advice. The key determinants of any successful interview are great preparation and research of the organization and your target audience; having the right theme and set of ideas; well-organized thoughts and outstanding contents for your oral presentation; great first impressions; and impeccable delivery.
Preparation & Research
Imagine that you just received an invitation for a final interview from the Board of Directors of a company where you casually applied for the CEO position. Let's also assume that the invitation caught you unawares because you neither received a courtesy invitation for a telephone interview nor a pre-notification from the company's executive recruiter or consultant during the screening process. How will you prepare for this crucial interview?
Preparation involves hard work, time and commitment. In light of the short time frame, preparatory work must begin with a thorough research of the company. Visit its website for details about the company's profile, history, product offerings and portfolios, members of its Board of Directors, top management team, and if available, its audited financial reports for say the last five years.
Supplement your initial findings with additional literature review and online info about the company. Focus on recent news, announcements, financial projections, strategic policies, brand recognition, marketing strategy, its ecosystem of partners, as well as formidable competitors.You need to have a fair understanding of its financial performance for the previous five years based on the audited reports, making a note of areas, profit or cost centers that need some improvements, including your solutions and suggestions.While reviewing the short biographies of the company's directors, also pay attention to their areas of interest and membership on special committees of the Board, for purposes of addressing each director's issue or question during the interview with surprising familiarity.
As an outsider, ask stakeholders including suppliers and business partners of your prospective employer, your business colleagues as well as your friends who work for the company about its corporate culture, capabilities, morale, Board's structure, governance, and the mindset of its Board of Directors. Remember that an insider interviewing for the same position may presume knowing more about the company than an outsider. However, working hard to obtain both the viewpoints and insights of outsiders and insiders about the company will give you a comfortable edge over any insider.
Why go that far? Your enquiries may turn out quite beneficial for you particularly if you have advance knowledge of some important events which may help you reverse your prior position, such as a new mindset to cut spending or an upcoming announcement of massive layoffs and plant closures. Without such intelligence gathering, imagine proposing an increase in spending when the current mindset of a company is massive cutback in spending. With such intelligence gathering you may also get the names of the most influential and active members of the Board that you would need to impress during your interview.
Take a similar look at the biographies of the top management team. Identify where you can add tremendous value by carefully noting key areas which are within your area of specialty and core competency but where this management team is clearly weak, deficient or lacks valuable experience. Such discoveries will help shape your ideas and suggestions to the Board concerning areas where future improvements may be focused or where serious changes may be necessary.
Now that you are armed with facts and figures about the company and tit-bits about some members of its Board and top management team, you can use your findings and notes to develop a suitable theme and some creative ideas for the interview.
Theme & Ideas
Next, you need to create an inspiring theme and a set of ingenious out-of-the-box or out-of-the-park solutions. In fact, you must not leave home without them because they will form the core of your oral presentation and animate your delivery. The creation a fitting theme and development of some ingenious ideas would depend on your prospective employer's industry, product portfolio, and crucial skills needed for the position; and your flexibility, peculiar situation and strong determination to seize the moment.
For example, at an interview for the position of CEO of an insurance company, you may suggest making a bold change to its distribution channels and introducing micro-insurance products in order to reach the poor, ignored and underserved population. "Protecting the Poor and Underserved" is an appropriate theme that captures your plan in an inspiring way. During the interview, you may use it repeatedly as the central theme of your proposition for both emphasis and mass appeal. You may also make the point that this is not an altruistic but a profit-seeking proposal that will serve the poor in any community well by minimizing their exposure to financial risk or loss of income as a result of sickness, disability, death, fire, or loss of crops and livestock due to severe floods and drought conditions.
Focusing on ease of premium payment and collection via cashless Point-of-Sales and other electronic payment systems as the panacea for selling the proposed micro-insurance products to your target group (low-income households, the working poor and the underserved), you may suggest an expansion of the current distribution channels to include: petrol stations; agents for money transfers and mobile phone SIM cards for telecom companies; banks; savings and loan institutions; credit unions; microfinance institutions; low-cost retailers; farmers' markets; and affinity groups for farmers, fishermen, members of labor unions, customers of utility and telecom companies.
Contents for Oral Presentation
After putting together a fitting theme, you need to organize your thoughts and oral presentation to flow well, supporting them with outstanding contents based on your notes and findings from your research about the organization, its strength and weaknesses, the men and women that sit on its Board and the executive team that runs it. 
Prepared contents for your oral presentation must contain inspiring, forward-looking and optimistic statements about the future of the company under your direction and leadership. Also include the challenges ahead and how you plan to overcome them; the tasks ahead; and an outlook of what the organization would like after your changes have been implemented and your imprints are in place.
First Impressions
On the day of your interview, wake up early; take a long and relaxing shower or bath; be well groomed and dressed for the interview; and leave nothing to chance: well-polished shoes, well-manicured nails, appropriate color combination, and friendly and genuine smiles. Now that you are ready to give great first impressions at each point of contact with your prospective employer, do it with ease.
Delivery
Your moment to shine is here. A great delivery involves impeccable communication of your competency, what you do best, what you can offer, and the sound ideas and creative solutions you bring to the table. Express yourself in simple and comprehensible terms; and allow your delivery to come alive through utmost show of confidence, lucidity of language, elegance of expression, and impactful individuality. Your oral presentation must be inspiring, forward-looking and optimistic about the future of the company under your direction and leadership. Be frank about the difficult challenges ahead and how you plan to overcome them. In addition, be clear about your specific goals and priorities for a successful transition of leadership.
Inform your audience about how you plan as a new CEO to understand the capabilities, experiences, priorities, perspectives, personal styles, diversity and motivations of your top management team as well as members of the Board of Directors; share your goals and priorities with them; seek their advice and input; and earn their trust. In addition, be clear about how you will invest your time to build and develop a professional and effective working relationship with the company's Board of Directors and the Chairman.
You should also be definite about your plans to engage employees at all levels, gauge how they feel about the company, assess their moods, and understand the culture of the company. Also include your plans to meet with union members, investors, analysts, suppliers, strategic partners, the media and regulators to understand their expectations.
As an outsider with a different operational style and priorities, be frank about your intent to hire or bring in your own support team, including a personal assistant, some support staff and a technical adviser.Then conclude with your great hope for the future of the organization by giving an animated preview of what the organization would like after your changes have been implemented and your imprints are in place. Your high-scoring delivery of a brighter future for the organization would likely clinch the job for you!
By Femi O. Odulana
The author is an expert in Executive Recruitment and Welfare Benefits; and a Fellow of the Conference of Consulting Actuaries.