Five Policies for Growing Africa's Agriculture
Published on 25th September 2012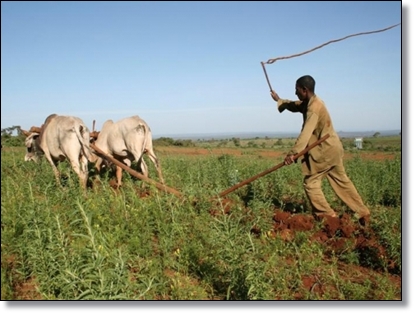 A farmer in his farm                                  Photo courtesy
Top players in African agriculture recently gathered in Nairobi, to present five policies they hope if adopted, will result in rapid growth of the continent's agriculture and improve on food security. Organized by the Global Development Network (GDN), the workshop had 35 attendees drawn from public and private agricultural bodies within Sub-Saharan Africa (SSA) region.
The workshop themed Supporting Policy Research to Inform Agricultural Policy in SSA and South Asia was a result of 12 months of research on issues that affect agriculture in SSA. According to George Mavrotas (Chief Economist of the Global Development Network) transforming small scale farming into viable commercial farming is crucial to reducing poverty in the region. The policy briefs addressed issues and provided solutions Africa can adopt to increase farm productivity. 
Chris Ackello Ogutu from the University Of Nairobi's agricultural economics department observed that climate change is a major threat to rural livelihoods if communities. Ogutu urged Africa's agricultural stakeholders to devise "safety nets" to shield rural communities from effects of climate change.  Ogutu urged governments allocate at least of 10 percent of their national budget to agriculture and encourage private-public partnerships for increased agricultural investment and food security.
Saa Dittoh of the University of Development Studies, Tamale, Ghana emphasized the importance of increased fertilizer use in Sub Saharan Africa farmlands.  "We are the lowest region in fertilizer use," said Dittoh. Applying an average of 20kg of fertilizer per hectare, Dittoh noted that Africa lags behind regions like Asia where 100kg of fertilizer is applied per hectare.  Ditto decried high fertilizer prices, untimely or no delivery of fertilizer to the farmer and the use of poor seed. Thse factors, he noted, contribute to low yields for smallholder farmers.
According to Dittoh, the diverse soils in Africa means "a one size fits all measure can't work to address soil infertility."  He also urged private and public sectors to invest heavily in fertilizer factories as only 4 African countries produce their own fertilizer.  Where fertilizer subsidies are in use, he urged that they be targeted to only smallholder farmers who can't afford fertilizer. 
Dittoh's views were echoed by Dr. Mariam Mapila a Malawian agricultural researcher who emphasized dialogue between government ministries as key to SHFs accessing fertilizer.  According to Dr. Mapila, harmonious interaction between ministries benefits smallholder farmers who double up as producers and consumers. "Policy makers need to continuously speak to each other," said Dr Mapila.
Speaking on markets, Olumuyiwa B. Alaba of Ibadan University in Nigeria urged policy makers to address issues hindering stallholder farmers from selling their produce competitively.  According to Alaba, this is only possible if all stakeholders in the agricultural value chain benefit in that symbiotic relationship. 
Water was also noted as a constraint to food production in SSA.  According to Reuben Kadigi of Sokoine University, water access in SSA is constrained by its cost and nonexistent infrastructure. Although SSA has enough water resources, little is done to conserve it when it rains through water harvesting. That according to Kadigi, hampers food production when the rains end.
Attendees argued for active adoption of the Comprehensive Africa Agriculture Development Programme (CAADP) process in each of the SSA countries.  The process was viewed as key to achieving issues outlined in the 5 policy brief launched at the workshop.
By James Karuga
james.karuga@gmail.com