Climate Change and Agriculture: Role of Trade Unions
Published on 25th September 2012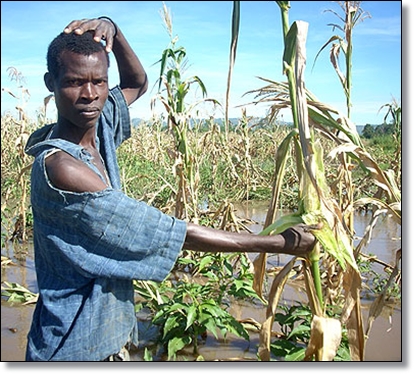 A farmer pondering after his farm is flooded     P. Courtesy
Climate Change is probably the greatest environmental threat that humankind faces in years to come. Developing countries which, have in effect contributed the least to the problem, are likely to suffer its worst impacts.  It is likely to affect the working people of the world in many ways, and every sphere of life. Scientific evidence shows that extreme weather conditions have led to more intense rainfall events in some areas causing flooding in some areas, droughts in some other areas of the world with implications for poverty, food insecurity and informal employment.
One of the sectors which drive both employment and livelihoods and is also highly vulnerable is the agricultural sector. Efforts to address rural agricultural employment, livelihoods and climate change have been mixed. Clearly, a local and a global problem, efforts to meaningfully mitigate the effects on agricultural employment and livelihoods are much less than are needed.
According to the 7th Meeting of the Expert Group on Informal Sector Statistics (Delhi Group),  out of  a workforce of 397 million, approximately 370 million worked  in the informal sector in India in 1999. In Ghana, out of 7,720,000 total employed, 5,620,169 were in the informal sector. The informal sector plays an important role as a labour safety net: in Ghana, when 60% of formal jobs were lost as a result of the Structural Adjustment programmes (1985-1991), a corresponding expansion of informal work, particularly in the agriculture sector, was observed.
Trade unions often play a bridging role between employee and employer. They offer a set of rules agreeable to both parties in order to create a harmonious working environment within the local enterprise while being guided by the labour laws of the country of jurisdiction. While Trade Unions seek to protect, defend and promote the rights of workers, they also influence the business enterprise and therefore the employer. These factors make trade unions a critical stakeholder in ensuring that work is accessible and decent and that supply and demand meet somewhere in the middle.
Climate change creates a fundamental challenge to normal business in the labour market and will test the informal labour sector, in particular. Employment opportunities could disappear or become significantly less reliable due to the unpredictability of rainfall, in a largely rain-dependent agricultural sector. Flooding, drought and other seasonal changes will affect productive systems in their entirety, the tools needs to successfully plant and harvest food and cash crops, related water and energy needs as well as eventually the types of seeds and crops which will be economically viable. All of these, in turn, will affect the number of jobs, the seasonality of jobs, the skills required as well as wages on offer. Few explicitly defined programmes exist to raise awareness or discuss the policy implications of climate change for employment in the agricultural sector, particularly for the more vulnerable informal workers.
This creates both challenge and opportunity for trade unions as "agents" of participation and as collective bargainers. In shaping the debate as well as policies to reduce social risk to marginalized groups, they can make the case for both the volatility and uncertainty effects of climate change on employment. Realistically, many trade unions may not yet even have climate change on their agenda and may not been seen as obvious stakeholders for policy and discourse. 
At home, in Ghana, trade unions have generally not been active on climate change. This is not part of their core business, yet.  The trade union I work for (Agricultural Workers Union), has considered the issue and recognized that the informal agricultural sector carries a greater percentage of the labour force in Ghana. Even with the increasing importance of oil to the economy, this is likely to remain so in the near-term. With no specific contract arrangements and without long-tenure working with any one farm, what guarantees can informal workers expect? Few, I would imagine, without a trade union in their corner.
Undoubtedly, the current structure of most Unions is poorly situated to dealing with climate change and its effect on agricultural employment, particularly informal labour. Skills in adapting to varying rainfall patterns as well as technologies such as aquaponics and hydroponics could help position agricultural workers of all kinds to adapt to new farming conditions and needs. How will they equip themselves to manage the expectations of workers and sometimes to anticipate changes not yet visible or clear?
Trade unions will increasingly need to engage in and on climate change issues and also build the capacity of their members in the face of increasing climate variability and change. Advocacy and awareness building will need to be matched with defined strategies to ensure that people's wellbeing, not just the macro-economy, remains the center of the debate and action. This places trade unions in the middle of debates on environmental rights, justice and equity.
By Hans Awude.
The author works for the General Agricultural Workers Union (GAWU) of Ghana as a Programmes Officer.