Malema: Is Zuma on His Way Out?
Published on 1st October 2012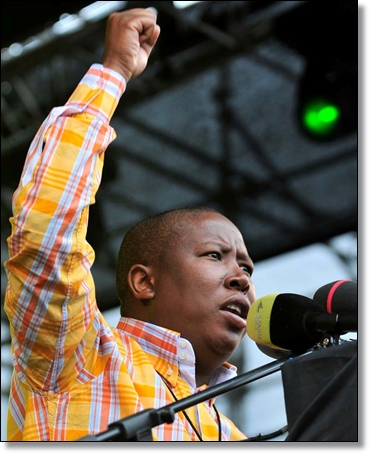 Julius Malema                  Photo courtesy
Those who remember how former South African Thabo Mbeki was unceremoniously booted out by his party and lost presidency still know the power behind this disgraceful move. Two personalities were at the epicenter of Mbeki's fall -Jacob Zuma (current president) and Julius Malema (former president of ANC youth wing). It goes without saying that Zuma used Malema to punish Mbeki, and grab power from him for handling corruption against Zuma differently from the African style of scratch my back I will scratch yours.
Zuma used Malema, a firebrand, whose influence has stunned many in South Africa. Malema was recently charged for money laundering, charges that he denies and brands as politically motivated and aimed at silencing and incriminating him. Zuma's protégé has turned arch foe more.  When Zuma used Malema to oust Mbeki, did he foresee that Malema would use his influence to be a king-maker?
Malema wonders why Zuma who has "700 charges against him" is off the hook while he [Malema] who has "only one" is crucified. Malema says that he is not fighting Zuma but fighting for economic freedom. He is fighting the legacy of apartheid. "The struggle for economic freedom is in motion and no amount of suppression and intimidation will silence us," Malema says.
Malema's take is that there won't be true freedom without the majority of South Africans benefiting from their economy which is still in the hands of the white minority. This is why Malema commands more support from youths in South Africa than Zuma. According to Luterdo Mothurwane, Malema has  "more support than President Zuma because he is  in touch with the people and is more intelligent."  Lao Tzu once said that he who wins over others is persuasive and he who conquers himself is strong. Is Malema trying to use Lao Tzu wisdom as his modus operandi knowingly how persuasive and strong he is compared to Zuma?
One South African analyst, William Gumede, observes that it is hard to put Malema in the box thanks to what he says he stands for. If Malema was a gun for hire, he now wants to become a kingmaker. Given the fact that Zuma has power under his disposal while Malema has popularity, who will win? Will Zuma's power save him from Malema's onslaught built on economic freedom the majority of black South Africans want to hear? Will the quest for economic freedom leave South Africa united or divided?
By Nkwazi Mhango.
A Canada based Tanzanian and author of Saa Ya Ukombozi.