China-Kenya Ties Grow from Strength to Strength
Published on 1st October 2012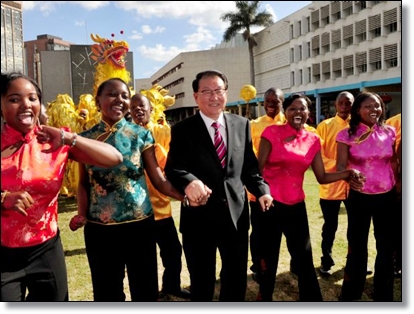 H.E. Liu Guangyuan takes a jig with university students in Nairobi
The last 63 years of China's 5000-year history is a very small chapter. However, these 63 years have opened a new era of unprecedented rejuvenation for the Chinese nation. Since the founding of the People's Republic of China and especially the beginning of the Reform and Opening-up over 30 years ago, China has made great strides in nation building.
Today's China enjoys economic growth, political stability, cultural prosperity, ethnical harmony, and social progress. Over the last six decades, China has made continuous progress in building a well-off society in an all-round way, focused its efforts on improving the living standards for her people.
Today's China is the second largest economy in the world. In recent years, China has been an important catalyst in world economy, accounting for over 20% of the contribution to global economic advancement. Be that as it may, China is still a developing country and is faced by a number of challenges on domestic front. 
In the era of globalization and interdependence, the development and prosperity of the rest of the world needs China's contribution as China also needs the rest of the world. Peace, cooperation and development represent the main theme of the times. On China's part, therefore, sticking to the road of peaceful development, and building a harmonious world of lasting peace and common prosperity is priority Number One.
Since we entered the 21st century, the cooperation between China and Africa has become increasingly dynamic. We have been pursuing mutual benefit, win-win cooperation and common development.
China's Foreign Direct Investment (FDI) to Africa has reached over 15 billion US dollars. China has assisted Africa to accelerate economic growth, lift her peoples' living standards, create job opportunities, and increase the government revenues.
China is Africa's biggest trade partner. The Sino-Africa bilateral trade volume reached 166.3 billion US dollars in 2011. China-Africa trade injects fresh vitality to Africa's economy, and contributes 20% percent to the economic growth of the continent. 
The government of China attaches tremendous importance to China-Kenya relations. Since the establishment of the diplomatic ties between our two countries 49 years ago, China-Kenya friendship enjoyed perpetual renewal. China-Kenya bilateral cooperation has led to a fast, comprehensive and profound development in this country.
I have been deeply impressed by the Kenya Government's push for social and economic development. Besides, it is gratifying to note how anxious for peace and stability the Kenyans are. That Kenya is no doubt keen on strengthening cooperation with China is a very important gesture. In reciprocation to the goodwill of the Kenyans, I noticed with satisfaction that more and more Chinese tourists want to visit Kenya, and more and more Chinese entrepreneurs have expressed an interest to invest in Kenya. We can safely say that the basis of the friendship between our two countries has been more solid.
First, the frequent exchanges of high level visits between China and Kenya have been guiding the development of bilateral relations.  Second, the China-Kenya trade volume increased at an annual growth rate of over 30 percent in recent years. The Chinese companies lawfully operated and actively carried out corporate social responsibility (CSR). They have contributed their wisdom and sweat to the economic and social development of Kenya. Ninety percent of the employees with the Chinese companies in Kenya are Kenyans. Under the FOCAC framework, China and Kenya have conducted practical cooperation in many important areas, including infrastructure, telecommunication, energy, health and technology, which has effectively supported Kenya towards achieving Vision 2030.   China's financial institutions also expanded their business in Kenya. The trade in services such as tourism has become a new growth area for the bilateral economic cooperation.
Third, the people-to-people and cultural exchanges are booming. China and Kenya have made remarkable cooperation in various areas, including education, culture, media and youth, among others. Egerton University will set up a Confucius Institute. It will be the third Confucius Institute in Kenya and the first Confucius Institute specialized in agriculture in the world. 64 Kenya students received the Chinese Government scholarship this year, which doubled last year's number. In June, a delegation of Kenyan young people attended the Second China-Africa Youth Leader Forum in Beijing. China-Kenya friendship is now been carried forward to the younger generation in our two countries.
We sincerely rejoice over the great development of the bilateral relations between China and Kenya. We cherish the hard-won situation for the friendly relations and cooperation of our two countries. We can't allow anyone to undermine the profound friendship between our two peoples. On the basis of mutual respect, mutual benefit, win-win cooperation and common development, China is ready to work with Kenya to push forward the friendly relations and cooperation to a new high level.
By H.E. LIU Guangyuan
Ambassador of The People's Republic of China to Kenya.