Freedom: Where Has it Put Africa?
Published on 2nd November 2012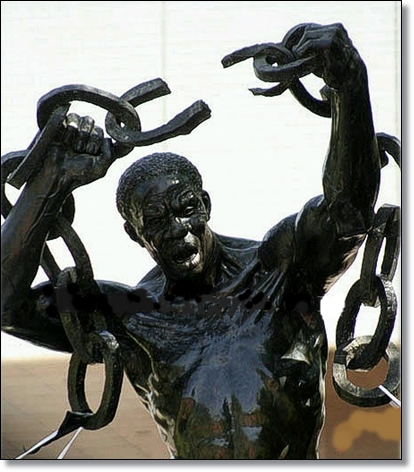 A freedom statue in Lusaka, Zambia
Freedom may just turn out to be a very small part of the true story of a people. The real story begins with what they did with that freedom.
This has been the real challenge of Africa. This has been the real challenge of our times. Can we make something worthwhile of our freedom? Can we be fruitful and workable nations? Can we create a good life for our people? But more crucially, can we make sustained and important contributions to the world and help in our own way to take forward human civilisation?
On the whole it can be said that African nations began with hope, fell in chaos and staggered into dependency. Or to take another variation, it can be said that African nations began in unity, collapsed into multiplicity and stumble in division. Or to weave one more jazz note of history; that African nations began in dreams, were overwhelmed by reality and stumble about in nightmare. Or to take a classical turn, African nations came, saw and squandered.
All across the world in the late fifties and sixties could be heard what Byron once called the First Dance of Freedom. Not long afterwards came the cry of failure as civil wars, tribalism, coups and corruption descended on the recent freedom dances. Then came the long decades of animi, that was such a feast of gloating and salivation for western observers. People emerged from the African world into a European-shaped reality in two or three generations and no one wonders that there would be some confusion. People entered an arena in which others have been shaping themselves as nation states over hundreds of year and no one wonders that they would at first seem inadequate.
The fact is, we might have lost control of our self-perception. We might have lost control of how we see ourselves in the modern world. We see ourselves and measure ourselves with outwardly determined standards. We don't play our game.
We don't choose our values; but more seriously, emerging from African reality into modern reality has had one major effect: time has gotten speeded up for us. We are having to accomplish in 10 years what it took European nations 2000 years to accomplish.
Africa is having to compress in a short time her own equivalent of the Roman Conquest, the Viking marauders, the Black Death, feudalism, Civil War, the Industrial Revolution with its dark satanic mills, capitalism, the poverty act, the union of the four warring nations and the unholy spoils of colonialism – all into a few solitary decades.
There is however another way to read history. It could be said that African nations have emerged from the long reality of their selfhood into a different time and are engaged in a complex historical adjustment. We need to define history more accurately, and the history of African people, the Bantu, the Zulu, the Yarubas, to give a tiny example, is long, unique and needs to be written and studied. History is not the story of the impact of the western world on the African world; that is a small part of our history.
History is not objective. The meaning of history keeps on revealing itself through time. Like a text of infinite interpretability, history yields new meanings in relation to the eyes that behold it and the pressures of the times. History may be memory, history may be vengeance, history may be redemption – but whatever history is, it is too soon to extrapolate the meaning of our recent histories.
Those who write about history in haste and fall into quick judgements, find that the long unfolding of events change the meaning of the facts upon which they base their judgements. Time is a great ironist. The historian who makes a quick judgement again the United States of America right in the middle of her apocalyptic Civil War, would be made fooling by the unfolding destiny of that nation.
History may be fact, history may be a dream, history may be revelation. It is not how things are that count, it's what you do with them, what vision you have and with what strength you march towards that vision. We need a new consciousness. History is always responsive to a new consciousness.
By Professor Ben Okri.
An accomplished Nigerian poet and novelist and one of the foremost African authors in the post-modern and post-colonial traditions. Excerpted from  the annual Steve Biko Memorial Lecture held at the University of Cape Town.