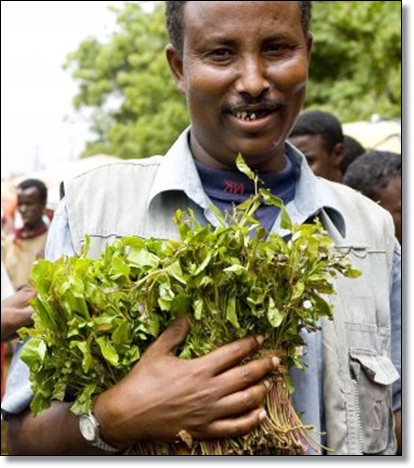 A man holds khat in Mogadishu     P. courtesy

Background
Khat, or Qaad in Somali, is a green-leafed shrub that has been chewed for centuries by people who live in the Horn of Africa and Arabian Peninsula, particularly Somalia and Yemen. It has recently turned up in Europe, including the UK, particularly among emigrants and refugees from the aforementioned countries as well as Djibouti, Ethiopia and Eritrea.
Khat consumption – which is traditionally chewed by male adults though women have lately been picking up this destructive habit in greater numbers – goes back to thousands of years as a social custom. Nowadays, Khat is being chewed almost everywhere a Somali, or a Yemeni can be found, even in countries where its use is punishable by fine or imprisonment such as the US and Canada. If you think Khat is consumed by Somalis and Yemenis, think again. The ancient Egyptians are believed to have used Khat and even considered it a divine food which was capable of releasing divinity, that is, making its user god-like. Nobody knows for certainty the exact origin of Khat, but it is believed that Harar, the medieval city of Ethiopia, which borders the Somali-inhabited region of Ethiopia, is the birthplace of this plant.
Effects/ Risks
Khat is a stimulant drug with effects similar to amphetamine, a banned substance in most countries, including the UK. Chewing Khat makes people more alert, talkative and suppresses the appetite, though users describe an ensuing calming effect (mirqaan in Somali) when used over a few hours. Regular use of Khat may cause sleeplessness, weight loss (anorexia) and anxiety. In some cases it may make people more aggressive and violent, and many Somalis who consumed Khat for longer periods were diagnosed to have suffered from mental illnesses and hallucinations.
According to National Institute on Drug Abuse (NIDA), there are a number of adverse physical effects that have been associated with heavy or long-term use of Khat, including tooth decay and periodontal disease; gastrointestinal disorders such as constipation, ulcers, inflammation of the stomach, and increased risk of upper gastrointestinal tumors; and cardiovascular disorders such as irregular heartbeat, decreased blood flow, and myocardial infarction.
Social Impact
No community has suffered more from Khat consumption (Khat abuse) than the Somalis – both in and outside the country.  Ironically, while Khat growers and farmers are largely from the Oromo community in the Oromia region of Ethiopia, Somalis living as far away as Mudug and Banadir are the main market for this destructive substance. In the fifties and sixties, Khat consumption was restricted to a small number of white color government employees, mainly as a social past time in hot summer afternoons. Lorry drivers and their assistants (Kurushbay/daba-ka-fuul in Somali) also indulged this habit for a good reason: to avoid falling asleep while behind the wheels as they traveled to distant towns and villages across the country. Finally, religious groups (Xer), though small in number, were the other notable consumers of Khat.
That number has started to grow rapidly in the early years of the socialist government led by the late Mohamed Siyad Bare before it exploded to an unbelievable level in the late eighties and the anarchic lawless ninetieth. In the earlier years, the means of transportation of Khat from Ethiopia to border towns and villages in mainland Somalia were restricted to a small flock of donkeys and mules, and of course an odd car. Men also used to carry contraband Khat on their shoulders (qaadka degta) in the dead of night, which was mainly traded in the border villages. Today, hundreds of fast-moving Toyota pickups, which often cause death on the roads, together with a number of charter flights bring huge consignments of Khat worth millions of dollars each day in the major cities and towns of the country. More worryingly, Khat consumption has tremendously increased and become ubiquitous in southern Somalia, where its largely northern consumers were ridiculed by residents of Mogadishu only a few decades earlier.
In the UK, where its consumption was legal until now (Khat was banned this week by the UK government), Khat consumption has taken a heavy toll on the Somali Diaspora community contributing significantly to almost all their social ills including a high number of family breakdowns. Although it is relatively cheap in the UK, about three to four pound sterling per bundle (mijin), it nevertheless continues to cause a great deal of economic hardship to a community already struggling financially and has the highest unemployment rate in the country. Men, and to lesser degree women, spend their meager income on Khat at the expense of the upkeep of their families, with the hardest hit always being children. The Somali community in the Netherlands suffered too in a similar fashion before Khat was banned in 2012. This prompted the Kenyan Miraa farmers, another form of Khat, to lobby with their government against the Dutch ban; a move they believe would hit hard their income should it not be reversed. According to The Star newspaper, around 840 tons of Miraa, worth a minimum of 14 million Euros (Sh1.6 billion) passed through Schiphol airport in 2010, up from 714 tons in 2009 and 693 tons in 2008.
Following Khat ban in the UK, Kenyan traders are making similar noises and asking their government to lobby with the UK government to reverse this latest ban. I hope the UK government will not heed their demands.
Over the years, continuing campaigns for Khat ban in the UK have fallen into deaf ears, and so it continued to wreak havoc to its helpless Somali community until now. At long last, Khat was banned in the UK following an earlier ban in the Netherlands, thanks to the UK's Home Secretary, Theresa May, who resisted the advice of her own Advisory Council on the Misuse of Drugs (ACMD). In the eyes of those communities who suffered heavily from Khat use, ACMD's advice is misplaced. Having seeing and witnessed the catastrophic social impact Khat has on Somali households, Theresa May will go down in history as the savior of our community in the UK, contrary to what others are advocating.
Back home, Khat consumption is more prevalent in the self-declared enclave of "Somaliland" where more than 90 per cent of male and 25 per cent of female population are believed to chew Khat almost on a daily basis. Tog Wajaale, a border village to the west of Hargeisa, is Khat's entry point to the rest of Somalia, except Mogadishu and its immediate environs, which receive their daily consignments directly from Nairobi through charter flights. The UN and other NGOs based in Somaliland have observed the catastrophic effect Kat has on the local population.
Over 90 per cent of the adult population is not only unemployed, but are considered as unemployable due to their consistent dependency on Khat. And even those who bothered to turn up for work were observed to last only a few hours – three to four hours. During my last trip to Hargeisa, I had witnessed in my very own eyes top government officials consuming a huge amount of Khat for long periods of time making me wonder if they would ever turn up for work the following morning. A government bill sponsored by the Ministry of Finance of "Somaliland", which introduced a higher tax (15%) on Khat and enacted in the parliament had to be hastily abandoned following a violent confrontation between the authority and the powerful Khat traders. This illustrates how this destructive habit has embedded in the Somali community and followed them all the way to foreign countries where they made their second homes.
Conclusion
The UK government's ban on Khat is a step in the right direction and should be welcomed by every Somali household regardless of their differing views on the issue. Secretary Theresa May, in my opinion, has done great services for Somali communities and others who were languishing at the lowest point of social stratum in the UK, thanks mainly to Khat consumption. Without any shadow of a doubt, Khat use has been a menace to the Somali community and created a great deal of social problems over the years, including family breakdowns.
Khat is believed by many to be one of the biggest barriers to integration for Somali community, if not the biggest.  In the late 1990s, a report jointly commissioned by Ealing Council and Metropolitan Police concluded that Somali youth were not only unemployed but unemployable due to their heavy dependency on Khat. The current Khat ban in the UK will save many families from unnecessary financial sufferings and marriage breakdowns; it will free the Somali youth from the shackles of hopelessness and scourge of unemployment and encourage them to improve their lives by studying hard and working towards a better future; and finally and most significantly many Somali fathers will, for the first time, take their children to school in the morning, bring them home in the evening and see them go to bed happily and peacefully, something children from other communities have taken for granted.
By Mohamed F. Yabarag
The author Myabarag@gmail.com contributes for WardheerNews