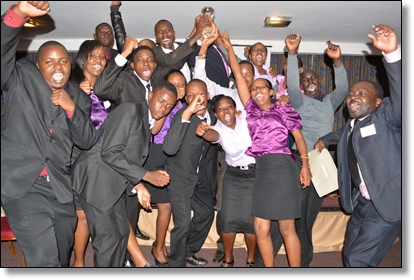 Kabarak University team members celebrating after being declared the 2013 Enactus Kenya Champions
Kabarak University were crowned 2013 National Champions during the 11th Edition of the Enactus Kenya National Business and Entrepreneurship Competition that was held at Sarova Pan Afric Hotel (Nairobi) on July 20, 2013.
Kabarak University trounced 15 other universities in the highly competitive community outreach projects exposition. They will proceed to Cancun, Mexico this September for the Enactus World Cup, to battle it out with other university teams from 37 countries worldwide. African Nazarene University clinched the second position while the University of Nairobi was ranked third.
Kabarak University initiated 3 projects dubbed Farnuts, KFC and Cocobs. The Farnuts Project involved helping butternut farmers from Mogotio to raise cash to purchase water pumps. They were also received basic training in business management and were assisted to form the Molo River Farmers Association to help market their products at competitive prices. The KFC Project aimed at providing affordable meals for students and staff who cannot afford to pay for school catering services. The teams then set up a cooking area where alternative hygienic food is sold at affordable prices. This project has generated revenue to the team and has employed 20 people. In the Cocobs Project, maize cobs were processed and modified Cocob to provide an alternative source of cheap energy to curb high rates of deforestation.
Africa Nazarene University team in their Canteen Project set up a modern canteen facility at their University that has employed 7 people and generates revenue to the team. In the Hamazisha project, the team partnered with Fountain Youth Initiative to train aspiring entrepreneurs on basic business management skills. The trained entrepreneurs were then linked to Zidisha for group a loan. This training has helped them grow their businesses and increased profits. In the Sacco project, the team revived Nazarine SACCO by injecting cash and promoted the culture of saving. The SACCO has since grown in membership and is able to meet loan demands from members.
The University of Nairobi in their "Taka ni Pato" project created employment through training street families on proper garbage management. In their Sack Gardens of Kayole project, they promoted urban farming in limited land space. The team also inculcated an entrepreneurial culture among high school youth in their Financial Inclusion project through forming entrepreneurship clubs and helped spur agribusiness models.
The competition attracted over 400 students from 15 Enactus Kenya affiliate university teams (private and public) and 21 judges drawn from 19 organizations. The event was also graced by Ms. Mireya Marlene Dominguez Guilbot (Deputy Head of Mission, Mexican Embassy in Nairobi); Lenah Zamchiya (Vice President, Capacity Building, Enactus International Affiliate Division) and Jonas Atingdui (Managing Director, International Affiliate Division).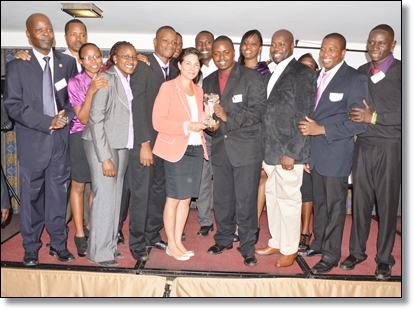 The 2013 Enactus Kenya Champions pose for a photo with Mireya Marlene Dominguez Guilbot, Deputy Head Of Mission Mexican Embassy in Nairobi and a section of Enactus Kenya Board members.
Jonas observed that while Africa has widely been perceived as an underdog, the positive energy demonstrated by the youth in the Enactus initiative is proof that the continent has a bright future.
Robert Onyango  (Senior Manager, KPMG and Chair, Enactus Kenya Business Advisory Council) observed that while many university students graduate and look for jobs, Enactus is raising a generation of young people with a desire to create jobs. He challenged business leaders to partner with Enactus teams to scale up their projects with a view of generating profit and improving living standards of communities in Kenya.
"Enactus Kenya students are a dynamic lot that put their boots on the ground to transform community challenges into business opportunities," he said.
According to James Shikwati (Country Director, Enactus Kenya), Enactus is inculcating the culture of honest business amongst youth, as opposed to corrupt and unfair quick gain business practices.
Ms. Mireya Dominguez (Deputy Head of Mission, Mexican Embassy to Kenya) hailed the Enactus Kenya initiative for facilitating partnerships among businesses, universities, students and communities. She observed that Enactus Kenya has a key role to play in the present and future development of the country. She challenged Kenyan universities to take advantage of the Enactus platform to initiate relationships with Mexican universities as well.
"It is through such partnerships and knowledge exchange that we will be able to positively address challenges that humanity still faces," she said. 
KPMG were the official partners of the 11th Edition of Enactus Kenya Business and Entrepreneurship Competition.
About Enactus Kenya
Enactus Kenya was launched in 2003 as a partnership between Enactus International and the Inter Region Economic Network (IREN). Enactus is an international organization mobilizing university students around the world to make a difference in their communities through outreach projects while developing skills to be socially responsible business leaders.
Enactus Kenya operates under the advice of the Enactus Kenya Business Advisory Council whose membership includes business leaders from both the private and public sectors and has an annual membership of over 800 active students from 19 Kenyan universities (both public and private). Enactus Kenya has nurtured over 3000 young business leaders since inception and implemented an estimated 400 projects.
In its 10-year history, Enactus Kenya National Business and Entrepreneurship Competition has increasingly grown into a well-known event that draws engagement from university students, academic leaders and business leaders in providing meaningful opportunities for the participants to connect, share, collaborate and evolve partnerships.
For details, please contact
Mr James Shikwati, Enactus Kenya Country Director or Ms. Mayiani Saino, Enactus Kenya Program Manager Tel. +254 20 2731497 or email [email protected] Pictures of event also available.
Visit our introductory video at http://enactus.org/who-we-are/our-story/