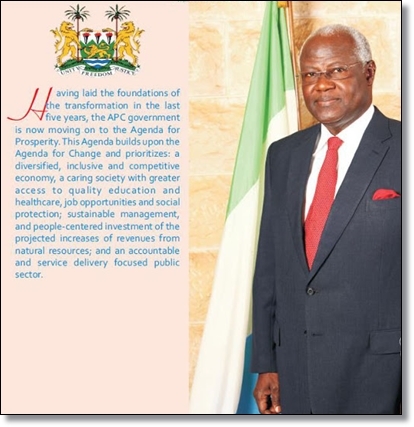 President Ernest Bai Koroma
Africa has been known for myriads of problems. To most people, Africa is still a place for charity, not investment. But thankfully, in recent years, there has been some major positive transformation particularly in democratization, good governance, and the observance of the rule of law. Indeed these rapid changes have helped prepare the continent for private sector-led growth and many African countries, including Sierra Leone, have either privatized or are in the process of privatizing state-owned enterprises and creating the best possible investment climate that would strengthen and expand the continent's link to the rest of the business world.
The new momentum for development and the successes Sierra Leone has been achieving as a nation are directly the result of policies elaborated by the Government of President Ernest Bai Koroma, under a policy framework called the AGENDA FOR CHANGE.  The Agenda for Change captures the developmental aspirations of the country and defines five priority areas for development namely:- Agriculture, Energy, Infrastructure, Health and Education.
In the ongoing process to turn around the Agricultural sector, the Government has increased spending from two to over ten per cent and launched a National Agriculture Development Plan. In Energy, the Government is investing in hydroelectric power and has completed the construction of the first phase of the Bunbuna Hydroelectric Dam with a generating capacity of fifty megawatts, and, indeed, energy generation capabilities are being expanded throughout the country. In infrastructure, the Government has ensured a turn-around in the road network by the construction of new roads, networking provincial and district headquarter towns, and widening existing ones. In Health, The Government has introduced free health care initiative for pregnant women, lactating mothers and children under five. The number of healthcare facilities in the country has been increased by over thirty per cent. In education, Government is putting in place appropriate measures through the adoption of the Professor Gbamanja Commission of Enquiry Report to improve the system of education at all levels and make it available to all, especially the Girl Child.
 
Sierra Leone is only beginning to tap into the full potentials of what it can contribute to the business world. Its natural relevance to a very wide expanse of business sectors cannot be overstated. There is a host of benefits for the investor who makes Sierra Leone his or her destination. This is because we have an open-arm trade policy and the Government invites and indeed encourages foreign investors to invest in a country that will soon be 'the' place to be in terms of investment opportunities.
To create a conducive investment climate, the Government embarked upon a holistic review of the regulatory framework necessary for easing business establishments and operations. All foreseeable administrative barriers to investment have been removed. Consequently, the average number of days it takes to start a business in Sierra Leone is between ten and fourteen days; far less than the global average of 35 days. For this reason, Sierra Leone has become the top performer in West Africa in the "Business Startup' indicator on the World Bank Doing Business index. The country's Investment Promotion Act ensures that no distinction is made between foreign and domestic investors in investment procedures. The Investment Promotion Act further guarantees the right to remit profits, and all private firms, foreign and domestic are protected against expropriation of property. Further, there are no performance requirements for foreign investors, proscribing export amounts, domestic inputs, investment levels, or limiting access to foreign exchange, etc.
More importantly, because we recognize corruption's corrosive effect and that it can stifle enterprise and choke off economic growth, we have revised the Anti-Corruption Act to give the Anti-Corruption Commission more teeth with robust prosecutorial and conviction powers to combat corruption. I can say that these measures, including incentives of tax and duty waivers among others, aimed at cultivating a business friendly environment has caught the attention of our development partners, including the United States to the extent that President Obama was able to state in his Millennium Development Goals (MDG) United Nations address:
 
"...We know that countries are likely to prosper when they encourage entrepreneurship; when they invest in their infrastructure; when they expand trade and welcome investment. So we will partner with countries like Sierra Leone to create business environments that are attractive to investment,."
Sierra Leone continues to manage its economy and the public finances prudently and steadily, introducing reforms to make the country a better place to do business, based on the principles of openness, fairness and transparency. Untapped opportunities for investment do exist in Sierra Leone. They include, first of all, Freetown's natural harbor, Africa's best natural harbor, and indeed one of the best in the world, providing access to a regional market of millions of consumers. As ours is an agrarian economy, with more than 5 million hectares of arable land, less than 20 per cent of which is under cultivation, the country is sitting on an agribusiness boom poised for take-off. The Government has substantially increased spending in Agriculture and is rapidly commercializing the sector. Specific agribusiness potential areas are sugar, oil palm and other edible oils for which the Government launched an outreach campaign a few years ago for investments and is offering substantive incentives.. Other potential agribusiness areas include cacao, coffee, cotton and all of those crops that can prosper in a tropical climate.
For the extractive industries, I may say that this sector encompasses way beyond diamonds for which, for better or for worse, many may associate Sierra Leone, partly due to movies like Blood Diamonds and the war it depicted. The Sierra Leone portrayed in that movie is certainly a different country from the Sierra Leone of today. There is a full-proof international certification system for diamonds in place, the Kimberley Process, and for the past ten years, diamond revenues have gone to benefit the people of Sierra Leone. Diamond cutting and polishing fall within the value adding industries the Government is desirous to promote. In addition to diamonds, there are proven deposits of iron ore, rutile, petroleum, bauxite, gold, platinum etc. Proven bauxite reserves stand at 300 million tons and over 146 million tons of iron ore. Other potential opportunities include industrial fishing, construction, tourism, and ecotourism.
President Koroma on July 12,2013, launched a follow-up policy framework as a sequel to the Agenda for Change, the Agenda for Prosperity which will, for the next five years be the country's road map towards meeting our goal of becoming a middle income country and donor nation within the next 25 to 50 years.
The Agenda for prosperity will guide our collective aspirations to doing more to sustain the transformation of our country, complete residual projects in the Agenda for Change and address recurring and emerging challenges, especially unemployment among the youth.
All these developments are sustained upon the bedrock of peace and stability, a stable democracy with a tropical climate, duty free market access to the United States for a number of products through AGOA (African Growth and Opportunity Act), and access to the European Union Market through the Everything But Arms (EBA). Sierra Leone, has, with solid determination, moved on from its bitter experience with rebel war and now ranks among the most peaceful countries in the world as attested by the 2010 Global Peace Index.
It is therefore important that African Diaspora Communities amplify the opportunities they have now and play the role of bridging trade between their countries of origin and the United States as a means to an end; that "end" being functional partnership characterized by balanced trade flows. In this connection, I firmly believe that the impact of a formidable business collective like the Africa Trade Development Center (ATDC) cannot be overstated in promoting the goals of the win-win situation that characterize fair trade.
By Ambassador Ibrahim Conteh
Chief of Mission of the Republic of Sierra Leone
Courtesy: Cocorioko.