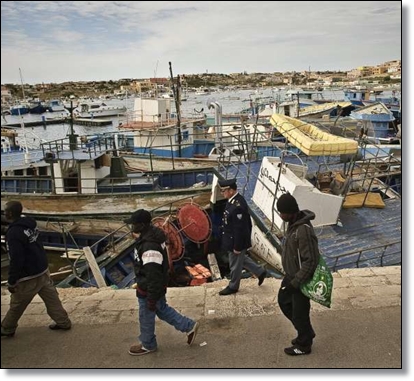 Assylum  seekers arrive at Lampesuda   P. Courtesy
Quite an irony! As delegates converged in Nairobi for the 3rd Convention of the Regional Committee on Mixed Migration for the Horn of Africa and Yemen, hundreds of victims of migrant boat disasters off the Italian island of Lampedusa were being accorded a state funeral by the Italian Prime Minister, Enrico Letta. Letta visited the island with José Manuel Barroso, head of the European commission, who promised Italy €30m (£25m) in EU funds to help resettle migrants risking the 70-mile journey across the Mediterranean from Africa.
Letta and Barroso were heckled by locals shouting "shame" and "assassins," while banners were raised and fishing boats sounded sirens in protest at a perceived lack of support from Rome and Brussels for migrants who reach the island, which is closer to Africa than mainland Europe.
After visiting the airport hangar housing the victims' bodies, Barroso said: "It's an image you cannot forget. There were coffins of children and their mothers. It shocked and saddened me."
Letta and Barroso also made an unscheduled visit to the island's overflowing migrant holding centre, where survivors were sleeping outdoors amid rain storms. "I apologise for the inadequacies of our country in relation to a tragedy like this," Letta said.
Interestingly, during the Nairobi parley, not a single delegate made reference to the spiraling death of migrants off the coast of Lampedusa dispute the fact that the parley was to delve on mixed migration in the Horn of Africa and Yemen.
Majority of the migrants risking their lives to take boats to Italy are from Ethiopia, Eritrea, Djibouti, Somali and Sudan. In fact, the delegates were drawn from Inter Governmental Authority on Development (IGAD), United Nations High Commission for Refugees (UNHCR), Regional Mixed Migration Secretariat (RMMMS), African Union (AU) and donor agencies. Others were from Saudi Arabia, Kuwait, South Sudan, Egypt, Djibouti, Somali, Puntland and Yemen.
While inviting the delegates to the conferences themed: "Striving to better manage mixed migration flows in the Horn of Africa and Yemen,"  Kenya's director of Immigration Services acknowledged that the Horn of Africa had witnessed a flow of mixed migration attributable to cycles of violence, civil strife and economic distress. Kenya has been affected by mixed migration flows as a destination and transit country, and is also becoming a source like Ethiopia, Eritrea, Sudan, Somalia and Djibouti.
The volatile situation in the Horn of Africa has resulted in mixed migration with its attendant benefits and in particular, security challenges. The benefit of globalization and cross border migration has carried in its trail both substantial benefits and risks in equal measure.
While the October 30-31 meeting in Nairobi aimed at improving collaboration between governments in the Horn of Africa, Yemen, and international partners to effectively manage migration and improve the well-being of migrant, this was never achieved. Migrants' deaths in Italy should have been a concern of the delegates representing countries which are the source for the migrants fleeing to Europe.
Limited economic opportunities, environmental shocks, and conflict continue to drive large numbers of migrants from the Horn of Africa to Europe and Yemen. Boats crossing to the Arab Sea or the Red Sea to Yemen or the Mediterranean to Italy are often overcrowded and refugees and migrants are vulnerable to exploitation, violence and sexual abuse at all stages of their journeys. From January to August 2013, 53,378 migrants arrived in Yemen from the Horn of Africa via the Red Sea and Arabian Sea. This represents a 26 per cent decrease in arrivals during the same period in 2012. This year has seen a rise in mixed migration flows from the Horn of Africa to Europe via North Africa, as evidenced by the boat tragedies in early October in Italy and Malta. Additionally, an increase in migrant numbers from the Horn of Africa to South Africa has been observed in 2013.
The conference failed to acknowledge the complex dimensions of this problem and in placing emphasis on strategic regional government initiatives that will ensure increased protection of migrants' rights and reduction in the number of lives lost.
Figure this out! This year, more than 30,000 migrants have sailed to Italy, of whom 7,500 were Syrians fleeing their civil war, 7,500 Eritreans escaping a brutal regime and 3,000 avoiding violence in Somalia.
Barroso said that the EU parliament would vote on a plan to build up a Mediterranean-wide search and patrol network to assist rickety, overloaded, migrant vessels. The EU's Frontex border agency currently relies on just four ships, two helicopters and two planes in the southern Mediterranean. According to Barroso, Germany, France, Britain, Sweden and Belgium received 72% of the 330,000 asylum applications made in the EU in 2012, while Italy received just 16,000.
Italian opposition is growing to EU rules on refugees, which compel migrants to request asylum in the country where the request is made – Italy in the case of migrants making the sea crossing. Many migrants arriving in Italy refuse to give their details, hoping to travel on to northern Europe to request asylum, a practice that is sometimes tacitly encouraged by Italian officials. Letta said he considered it a disgrace that survivors of the disaster had automatically been placed under investigation thanks to the Italian law against clandestine migration, even if they would likely be eligible for asylum.
Thanks in part to instability in Africa following the Arab revolutions, almost all migrants making the crossing could now qualify for refugee status, and very few for economic migrants. It is not in doubt the Horn of African countries must address the issue being a major of migrants going down south and to Europe and Italy. They have a social responsibility.
By Kasembeli Albert
The author is Editor of Security East Africa, the premier regional magazine dealing with security matters.