Supporting Africa Smallholder Agriculture
Published on 1st September 2014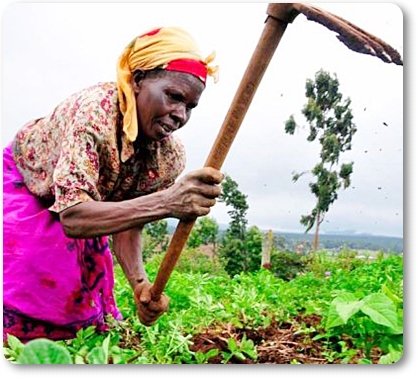 Photo courtesy
It's a cool morning here in Nyakitokoli Parish, Kabarole district, western Uganda, where I am interviewing smallholder farmers on what they think the government should do to support them. Some say they would like to be linked to markets, while others say that they need agricultural science-led training, extension services, establishment of value addition enterprises, interest free loans, veterinary services, and good quality planting seeds.
One farmer, Betty Birra Akiiki, tells me: "Last month, my two hectares of banana plantation produced a lot of good quality and big matooke (bananas). I hoped that my earnings from their sale would be good, to make me take my three children to good schools. Unfortunately, there was bumper harvest during that month, and I was forced to painfully sell my bananas at a very low price. Traders took this advantage to exploit us. We appeal to the government to link us to direct markets  so that we can get good prices for our produce," she emphasized!
Had the government established a banana processing enterprise to produce value added matooke in the area, producing banana products such as instant flour, raw flour, low amylase starch, extrusion cooking of banana flour, and banana wool, such a scenario would have been avoided
Such heart-breaking stories are not peculiar to only Uganda. Early this year, I was in Tanzania and Malawi, training some farmers in farming best practices. One Malawian smallholder farmer, Peter Kumwenda, told me: "Most times, I am forced, to sell my sorghum, maize, and wheat at a very low price due to lack of proper storage. The Malawian government should enable us access post-harvest technologies and grain processing facilities to make us avoid wastage, get direct market, and good prices for our grain produce.''
Agriculture is the backbone of African economies and 65 per cent of people engaged in agriculture in Africa are smallholder farmers. Due to the continent's skyrocketing population coupled with declining soil fertility emanating from over use of land, the number of smallholder farmers in Africa is dwindling. It is projected that by 2030, the agriculture market will be worth $1 trillion. What initiatives are African governments putting in place to position smallholder farmers to benefit from this huge agricultural market? 
Africa needs a smallholder farmer's green revolution component. Countries like China, Malaysia, Mexico, have initiated desert greenhouse projects and are ably producing food. the desert greenhouse initiative is an innovation that African countries should urgently adopt.
Ten years ago, African Union, launched, Comprehensive Africa Agricultural Development Program (CAADP), which African governments signed and committed themselves to commit 10 per cent of their national budgets to agriculture. However, agriculture continues to be underfunded. Countries such as, Ethiopia, Ghana, Rwanda, and Burkina Faso, which invested in their agricultural sectors significantly, have been able, to reduce poverty significantly by 49%, 44%  38%, and 37% respectively, this should serve as an inspiration to others.
Small scale farmers in Africa, incur heavy losses emanating from wastage, which is due to not having proper storage facilities and post-harvest technologies. Climate change is adversely affecting Africa's small scale farmers. Value addition infrastructure is dismal. Attaining sustainable development and rural transformation will only be possible if smallholder farmers are constantly trained and supported to adopt evolving methods of profitable farming. Every African country should establish an agricultural development bank, advancing interest free loans to smallholder farmers and their cooperative unions, to acquire, good quality planting, seeds, machines, and other agricultural input. South Korea in its initial stages of development invested heavily in its agricultural sector and thereafter pulled out for farmers to take over. The result was food security and increased foreign exchange earnings, which eventually paved way for it to be become an industrialized and economic power house that we see and admire today.
By Moses Hategeka,
The author moseswiseman2000@gmail.com is Ugandan based independent governance researcher, public affairs analyst, and writer.