Agribiz4Africa Finalists in Addis Ababa, Ethiopia
Published on 15th September 2014
Agribiz4Africa competition award ceremony was held on September 04, 2014 at the African Union headquarter during the  year 2014 African  Green Revolution  Forum (AGRF 2014).
 
The top six finalists emerged from Kenya and Nigeria. They presented their ideas to leaders and key stakeholders engaged in agriculture across Africa.The successful one hour session was assigned for contestants who were given one minute each to pitch their ideas before business leaders. The contestants emerged from 800 youth entries drawn from 22 countries in Sub-Sahara Africa. Agribiz4africa is a platform run by Enactus Kenya in partnership with Syngenta.
Business Idea Category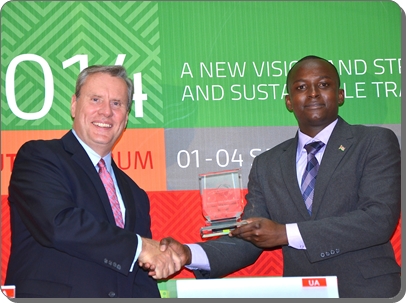 Syngenta's Chief Executive Officer, Mike Mack (Left) presents a trophy to the overall Essay winner, Nickson Muturi.
1.Nickson Muturi: Bites Cassava Millers Ltd.
The business idea provides whole meal solution through cassava. It entails diversifying cassava products to increase its production through human food and chicken feed. Mr Muturi is currently supplying 26 poultry farmers with chicken feeds, 1 bakery, 2 hotels, 3 health clinics and 1 early childhood development center. His business idea can be applied to other starch food such as rice, yams, maize, millet and sorghum.
2. Kevin Muriithi Kithinji: ACX Solutions.
Dubbed a One Stop Shop Solution for Small Holder Farmers, the business venture provides farmers with proper knowledge and input on how to plant, manage, harvest and package indigenous vegetables as well as linking farmers to vegetable markets.
The business solutions has  the beginner's kit designed to interest people into farming especially those with small pieces of land, commercial kit and the enterprise kit designed for those taking farming as a business venture. Mr Kithinji works with 7 farmers, who have bought the project kits. The project has a model farm currently training 10 farmers on monthly basis on how to tap into the indigenous vegetable markets. He is currently developing an online platform which will link farmers to market and consumers to the farmers. This process is replicable to any other exotic vegetables.
3.Layi Adeyemi: Vegetable Snacks
The Ready-to-Eat Vegetable Snacks venture focuses on processing carrots to produce crisps, powder and juice. These products are aimed at promoting healthy eating and stimulate consumption, demand and prevent post harvest wastage. Currently working with 4 suppliers from Northern Nigeria, the vegetable snacks alternatives are also possible with leafy green vegetables.
Video Message Category to Attract Youth to Agribusiness Ventures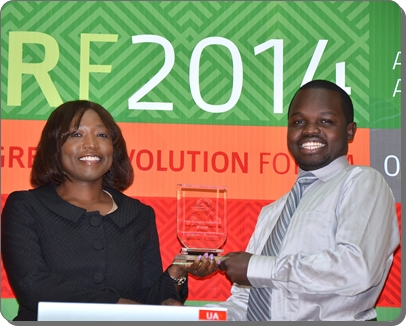 Lena Zamchiya (Vice President, International Affiliate Division, Enactus) presents a trophy to Larry Keya, the overall winner in the Video category.
1. Larry Keya: 3-D Farming
3-D farming involves transferring best farming practices to smallholder farmers by uploading successful farming ventures into best practice. The course is accessed by 1,000 farmers and there are 3 actual subscriptions in a month. 3-D farming information can be accessed by any farmer anywhere in Africa. It literally turns farmers into "printers" on the farm.
2. Peter Gachanja: The Vegetable ATM
The communication idea focuses on how to earn quick money through vegetable production.The vegetable production is achieved through use of controlled greenhouse environment and tomato sucker technique.Mr. Gachanja currently operates  a greenhouse with a capacity of six hundred stems.The sucker techinique  reduces maturity time from the 85 days using seeds to 55 days.The vegetable ATM  is applicable to a wide range of crops such passion fruits, capsicums and cucumber.
3. Fatimah Oyiza Ademoh – Youth Agrbiz Training
The message focuses on how youth can earn through agriculture while learning. Through this initiative youth earn a stipend during the 18 months training program part of which is kept in a savings account and can only be accessible to them at the end of their training which then act as seed funding in starting their own agribusiness.
The 18 months training program equips youth with  general formal and practical training, specialization, internship and advanced training in entrepreneurship and business planning.Ms Ademoh has worked with a management and Entrepreneurship Lecturer from the American University of Nigeria to develop the entrepreneurship curriculum and participated in an exchange learning program at Foundation Paraguay San Francisco Agricultural school in Paraguay and Songhai Farms in Benin and consulted with Ajima Farms Limited in developing the agricultural training curriculum.
She is also working with 5 youths directly and over 2,000 youth's indirectly through social media, her model can be replicated all over Africa in all forms of agribusiness.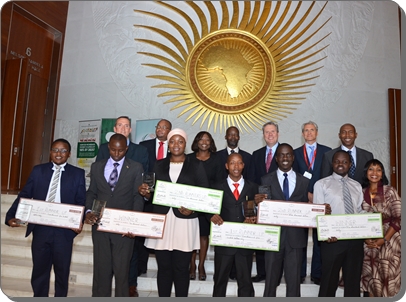 The six winning presenters pose with Enactus Kenya and Syngenta team.
Click here for the Agribiz4Africa journey video.