IREN Launches Enterprise Study Report
Published on 2nd June 2015
Inter Region Economic Network launched its IREN Property Rights and Food Security Project in Kakamega County scoping report on 29 May, 2015 at Golf Hotel in Kakamega County. In attendance were assorted key players in the agribusiness value chain sector.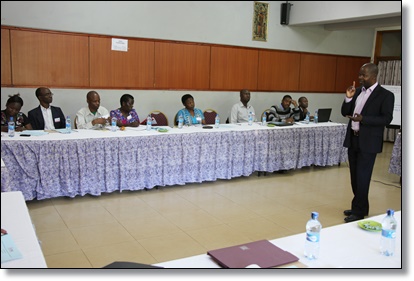 James Shikwati, Director IREN, explains a point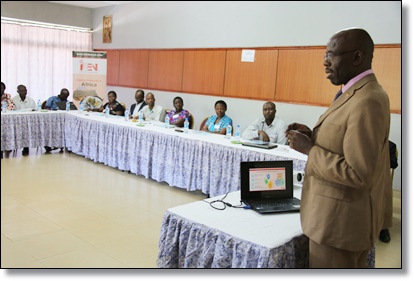 Hon. Kulati Wangia, County Agriculture Minister speaks to the participants
Group photo. Seated First Row L-R: Mr James Shikwati (Director, IREN); Veni Swai (FNST Program Officer); Hon Kulati Wangia (Agriculture Minister) and Emma Adolwa (Proprietor Okas Dairies as well as Trainer of Trainers)
Hon Kulati Wangia (Center) has a word with Mr Andrew Okumu (Dairy Farmer -  extreme left) as (L-R) Veni Swai, James Shikwati, Elizabeth Maloba (Facilitator), Julius Omari (Human Resource Manager, Mama Watoto Supermarkets), and Emma Adolwa listen.