Raila: A Lone Ranger?
Published on 18th January 2016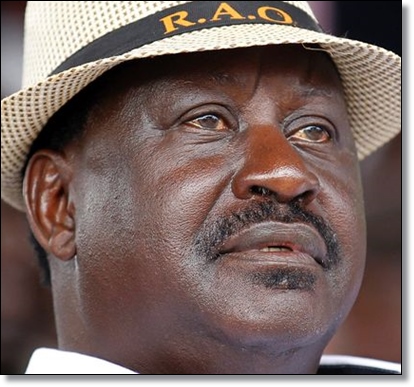 Raila Odinga
In a do-or-die contest by former Prime Minister Raila Odinga next year, my free advice to him is this: he needs to review the way he plays his politics. He needs to change tact, get rid of hangers-on and incorporate fresh minds in his final quest for the presidency. He needs to gauge the value of those who purport to be closer to him. 
If I may ask, where is the Orange Democratic Movement (ODM) Secretary General Ababu Namwamba when he should be articulating the party agenda before the nation now that we are a year away to the next election? Where is the energy he portrayed when he traversed the country in choppers under "team fresh" fighting to become Secretary General of ODM which he eventually won? Even nominated Senator Agnes sani who is Namwamba's deputy is muted. 
These Party leaders have left Raila to cook, serve and wash the dishes! I'm sure the two are intelligent enough to know the work of a Secretary General in a political party. Even most Cord governors are silent. They have forgotten that they are politicians with a responsibility to defend the coalition's agenda.  
Raila has unraveled deep scandals in the Jubilee government but his crusade decapitates immediately because he lacks people in his party and the Cord Coalition to stir the momentum. This eventually gives the Jubilee brigade  room to launch vicious rebuttals. Have you ever wondered why Jubilee MPs cannot replace Duale as Majority Leader in Parliament? Deputy President Ruto has the capacity to evoke sympathy from the hoi polloi. President Uhuru carries himself  like a super statesman, focused, intelligent and sharp.
Raila needs strong people who will spur the momentum of his charm offensive. That is why I suggest that he brings on board Mr. Barrack Muluka who is witty and a calm strategist to articulate the Cord agenda to Kenyans. Secondly, he needs to ask Miguna Miguna to rejoin Cord. After all, Raila forgave former President Moi, who detained him for almost a decade and ended up working with him in Kanu.
 
I say so because; even if they broke apart, Miguna proved to be one of the strongest and fiercest defenders of Raila before and after the grand coalition government. He has enough fire in his belly to tackle the vicious Jubilee led by Uhuru, Ruto and Aden Duale in readiness to 2017.
 
Raila has cried so many tears for Kenya. Today, he is on the same trajectory with his late father during the early 1990s. Many Kenyans who support him are afraid that his ascendancy to the Kenyan throne is on a delicate phase.
 
It's sad that Raila is surrounded by people who don't advance his political philosophy. Governors, Senators, MPs, MCAs, are only waiting to queue at Orange House to "buy" nominations and start singing "baba" sarcastically in 2017 in order to be elected.
 
He also needs to take a tactical retreat from the limelight. He needs to start using the 16th laws of power where you use absence to increase respect and honor. Appearing on media cameras in perpetuity will reflect you as a King without Prince and Princes. I don't mean that he should completely hibernate from the limelight.
 
Therefore, those at the front-line as an alternative government, needs to put their acts before 2017. It's worthy to remember that, elections are literally won now, not in the election year.
 
Joseph Lister Nyaringo
New Jersey, USA